about
Your Go-To Stone Products
Professional & Reliable
Stone Products You Can Trust
Professional Team
Affordable Rates
Limited Installation Warranty*
Years Of Experience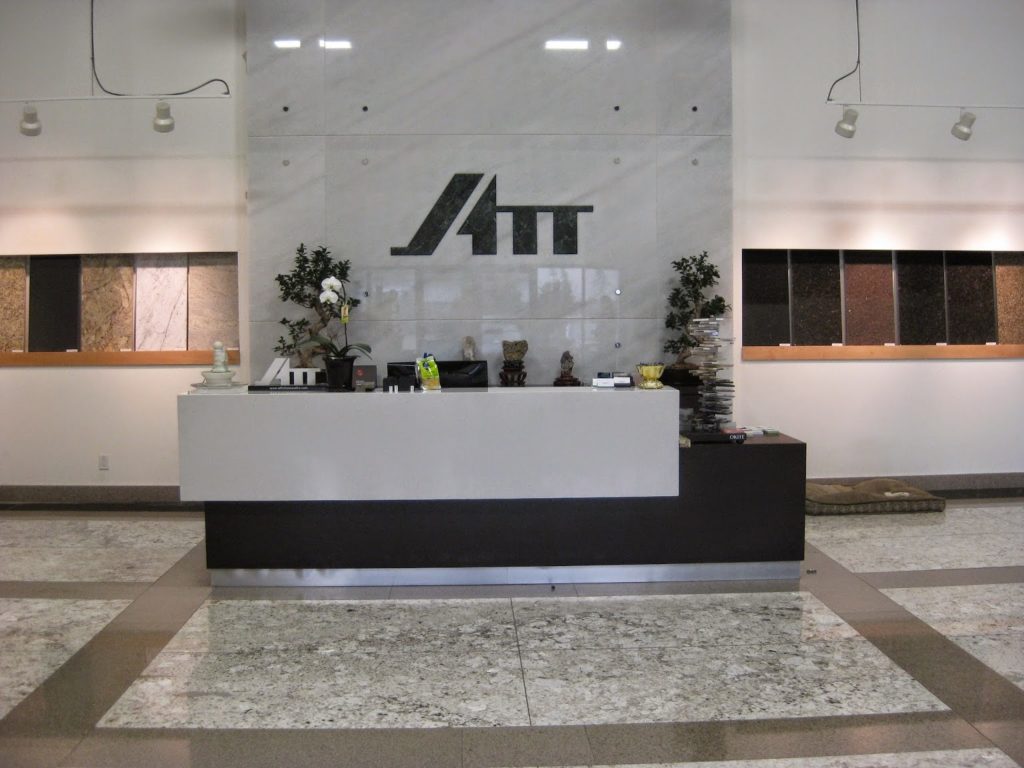 About ATT
ATT Stoneworks has been serving the lower mainland for over 24 years providing quality stone countertops and fireplaces. They have built their reputation based on customer satisfaction, confidence and advanced technology. 
ATT adopted the latest CNC technology for their production process, including digital templating. With CNC machines, it allows them to produce exceptional products with fast turnaround times at competitive rates.
Drop by ATT Stoneworks at 90 Glacier Street, Coquitlam, BC to view the grandest public showroom in the lower mainland. 
ATT Stoneworks Invests In
State-of-the-art Technology
Computerized-Numerical-Control (CNC) machines are propelling most of the leading manufacturing industries in the world, and ATT Stoneworks is proud to run several of these machines.
With the latest CNC technology, ATT Stoneworks can produce complicated shapes with an extraordinary amount of efficiency. The water-jet and automatic saws cut the stone with exceptional precision in a short period, whereas if done by hand, it would take hours. And the spindle-driven CNC routers allow ATT Stoneworks to profile any edging to almost any shape. It is also versatile enough to produce distinct outlines that are nearly impossible to do so by hand.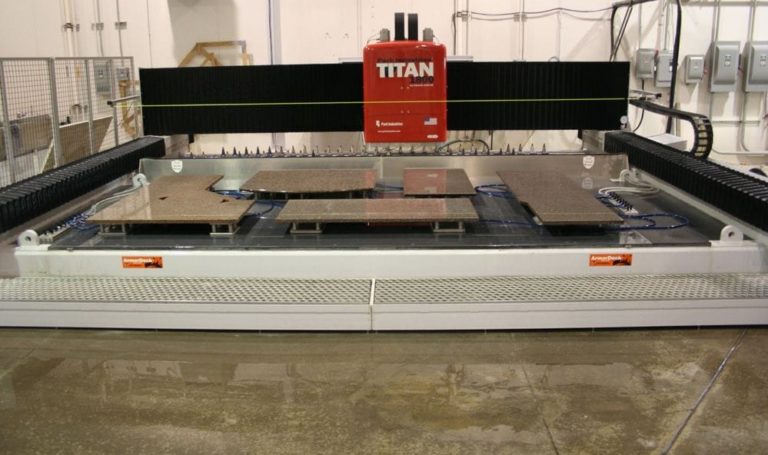 Understanding the Types of Countertops
Frequently Asked Questions
Stone Selection
The first step is to identify the stone product of your choice. You can browse through our stone suppliers' websites to identify the colour and stone of your choice, or book an appointment to view our selection in person. Our team can show you samples and guide you through the options.
Finishes
Choose your countertop edge. Identify the style of sink and dimensions of backsplash and/or side splash if applicable.
Measurements
Identify the dimensions of your countertop. Based on the measurements you provide, our team will generate a quote and the current approximate installation lead time. Lead time may vary depending on your confirmation time.
Fabrication
After you approve the project, we will order and prepare your stone. When your stone arrives, our team will use our CNC machines to cut the stone. All fabrication are completed in-house, thus once the parts are cut, they will be fabricated and polished by our experienced team.
Installation 
Installation will be completed by our team of professional with years of experience. 
Can I use marble on my kitchen counters?
Yes, but their polished surface is more vulnerable to household acids like vinegar, mustard, catsup, citrus  or other food-related products. These acidic substances causes a chemical reaction and will remove the polish if not instant then over time. Additionally, marble and limestone can be scratched more easily than granite.
What are the benefits of a granite countertop?
Granite is aesthetically pleasing and also a smart investment because:
It is 100% natural and non-toxic
When sealed, it is a sanitary countertop material that does not hold bacteria
It can be easily cleaned
Resistant to scratching
Resistant to burning
Can be easily fabricated, using curves, arches and 90-degree angles
How does quartz differ from granite?
Quartz surfaces are more uniform in their appearance than granite.  Since it is manmade, despite natural stones, there are no veins.  The polyester resins in these engineered stones tend to give them slightly more of a matte appearance than the highly polished granites.
What quartz surface products does ATT Stoneworks offer?
ATTStoneworks offers the following engineered stone products;
Caesarstone
Silestone
Dekton
Wilsonart
LG
Vicostone
Quartzforms
Samsung radianz.  
We work with the most direct distributor of the material in the market thereby saving our customers money.
What should I know before purchasing natural stone?
Natural stone is an original building material. Since the colours and shades come from the earth, Natural stones cannot be copied or manufactured.
Unique shades and inconsistencies are signs of natural stones. No two are alike. And, depending on how the surface is finished, different visual characteristics may be revealed. When selecting natural stones, there will be lack of predictability in regard to color and veining, which adds to its beauty, originality and design potential.
Is Natural stone difficult to maintain?
Not at all. Once your natural stone is installed and sealed, sweeping and wet mopping are all the required maintenance. Removing spills using diluted bleach plus routine cleaning and scrubbing will make the surface look better for longer.
Sealing not only protects your tiles but also discolorate the grout. Sealing your stone can also help against salt attack, unsightly staining and reinforcement from rusting.
Do I need to seal my engineered stone?
No.  Quartz products are non-porous and remain so without polishing or sealing.  They are extremely resistant to stains and require no sealing or special maintenance.
It is created almost entirely with Natural Quartz mined directly from the Earth. The natural Quartz is then combined with various dyes and epoxy to create the final pre-fabricated slab. Like granite, it is extremely durable and an excellent countertop option.
Get To Know Us
They Believe In Us​
See what our clients have to say.
Mark Watkinson Read More
"These guys do excellent work. Our solid granite countertops look beautiful. I highly recommend these guys for your countertop work. You will be impressed, as i was."
Tony Bisig Read More
"Thanks Cindy and installation crew. We are very happy with our new countertops. The guys did a super job. They showed up on-time and completed the work in short order.
We highly recommend ATT Stoneworks."
amy curtis Read More
"Great quality product. The installation team was quick, efficient and professional. Thank you Cindy for answering all of my questions"
LunarANubBridger Read More
"High quality countertops and fair to great price."
Ryan De Temple Read More
"Very good quality and very efficient! Professional and great quality."
Irene Fraser Read More
"I have used this company over the years for countertops for my clients. They have a great selection, good service and professional installation. I have no hesitation in recommending them"
Kiran Parghi Read More
"Very detailed, everything happened on schedule and the price was well below another quote I had. The seam is pretty much flawless, counters look great. Happy with the price, scheduling and the work done. They also kept me in the loop with everything that was going on, and it was quick, less than a week between signing off on the measurements to having my counters installed."
Graham Archer Read More
"Great service and selection. I have done two projects with ATT and will definitely use them again in the future."
Chad Yates Read More
"best stone place ever"
Previous
Next

"Hi Cindy! I just wanted to say thank you so much my countertops are in and they are
beautiful I love them!!! Thanks again for all your help"
Carly

"Hi Cindy, The countertops are in and everything is looking great. The cut around the sink is perfect and the drying slope looks really good."
Campbell

"Hey Cindy just wanted to let you know the installer did a great job. We will be happy to continue using you guys for the rest of the house as we go along! Thanks."
Tyler

"I am very happy with how they fabricated the countertop and installed it"
Olivia

"I have spoken with Nancy & Doug and they are very happy with their countertop. Thank you for all of your assistance with this project. I have recommended you to one of our designers for our next project. Thanks again."
Lynn

"Big big thank you for guiding our little job through so quickly. Truly appreciate all your help,"
Mark
"Counter Itself Looks Great!"
Darren
"Kim is very happy with her counter top. Great job :)"
Barbora
"The counters look awesome! Thanks."
Dawn
"Thank you very much! We love our countertops. Your team was so professional, courteous and so competent! We can certainly understand why Warren did not hesitate to recommend you and your team and we will be doing the same with any contractors looking for a top notch counter company."
Paul, Dona, Sheldon and Jane
"You guys are the best !!! :)"
Ken

"Thank you for everything so far, I am really pleased with the result."
David

"Love my countertops thank you so much. They look fabulous."
Denise 
"My counters really are beautiful!! Thanks again"
Audrey

"Thank you so much Cindy! You have done a great job. Take care."
Andre

"Thanks Cindy great job thank you to the installers. All looks great thanks again for all your help"
Grant
"The quartz countertop is installed and looks amazing! It was exactly what I was looking for. 🙂 I also wanted to say you have been a pleasure to deal with so thank you for that. I will recommend ATT whenever I have the opportunity. Thanks very much"
Tami
Previous
Next
Xtine Bechard Read More
"Great workmanship and wonderful staff. They are honest and transparent. It has been a pleasure working with ATT."
Debbie Williamson Barry Read More

"We ordered our quartz kitchen counter top through our kitchen renovators, Elite Kitchens & Bathrooms. ATT Stoneworks were there to measure the same day our cabinet installer was finishing up and 12 days later our counter tops were installed (average is 2 – 3 weeks). Cindy in the office set up our appointments and we were called again to advise they were on their way. Very professional and friendly staff (shout out to Thomas). Highly recommend this company."
T M Read More
"beautiful countertops! Alex and the team at ATT do a very special job with their counters. Precise installation and great selection of high quality stone. They get it right. I have used them for 5 renovations now, and I would highly recommend them."
Janice Heath Read More

"I had ATT replace two bathroom counters. We checked out several places before we came back to ATT (well, we had chosen them from the beginning but checked out a few other places). We thought their selection of different stone counter-tops was fabulous. When they came to measure, they made sure it was done correctly (the previous company that was in did not measure or cut it out correctly). The installers were wonderful, and kept apologizing for problems created by previously installed counters. I would recommend ATT Stoneworks to anyone looking to replace their counters"
Jedan Brothers Contracting Read More
"We recently used ATTStoneworks on a residential Renovation project. We found their product , fabrication , installation and service to be excellent. We would definitely use them again on future projects."
Elite Kitchens and Bathrooms Read More
"We have worked with ATT Stoneworks for years now, and they have been a huge asset to our company. We are able to provide our customers will a full service job, thanks to the beautiful stone tops that ATT fabricates and installs. Great service and quality workmanship really sets them apart from other fabricators. High Recommend them."
Ripples Kitchen and Bath Read More
"ATT Stoneworks has been extremely helpful to our company, and is our 'go to' supplier. Very professional staff who are willing to go the extra mile to ensure customer satisfaction! We look forward to working with them on all of our future projects!"
Previous
Next